Photographs by Ryan Herz
March 8 –April 27, 2008
In late summer through early fall of 1976, Ryan Herz's job was taking ID photos for the patients at a facility for the developmental disabled. This gave him a unique opportunity to document a fragment of humanity the public at large rarely, if ever, sees. The resultant images are of patients who cover the landscape from mental retardation and severe autism to Down's syndrome and brain damage. It is important to know that, even though some may look like adults, they are emotionally and developmentally children.


click image for video

"Disturbing, haunting, beautiful and ugly. One can't take your eyes off the subjects. They are extraordinary pictures, almost like classical fashion photographs. The photographer so humanizes their pain."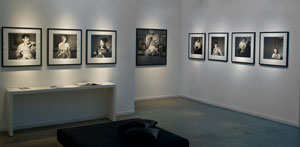 click for installation views

These never-before-seen portraits were completed in three or four sessions. "I had just a few minutes with each person," Herz explains. "This both forced me and freed me to be instinctual rather than manipulative." That spontaneity coupled with the intense humanity and the unfiltered emotions of the subjects gives the photographs their power.

Drkrm. gallery is proud to present this powerful and important body of work. A portion of all sales will benefit The UCLA Foundation Medical Genetics Division
Artist statement

Exhibition essay by David A. Hovda, Ph.D.
Professor, Division of Neurosurgery UCLA

| | | | | |
| --- | --- | --- | --- | --- |
| | | | | |
| | | | | |
| | | | | |
| | | | | |
| | | | | |

drkrm. gallery is an exhibition space dedicated to fine art and documentary photography, cutting edge and alternative photographic processes and the display and survey of popular cultural images.

drkrm. gallery • 2121 San Fernando Road Suite 3 • Los Angeles CA 90065
323.223.6867 www.drkrm.com drkrmgallery@gmail.com
Hours Tuesday-Saturday 11am-5pm Sunday 1pm - 4pm and by appointment

All gallery events are free and open to the public.



PR CONTACT: Lee Joseph Publicity
leejosephpublicity.com
p 818.848.2698 - f 818.848.2699
leejemail@gmail.com


The Children of Edgewood

These images are of patients who have endured various developmental disabilities. Many exhibit the anatomical features of chromosomal damage. Others appear to have sustained damage to the central nervous system. Still others show the signs of genetic damage. The diagnoses most likely cover the landscape of mental retardation, sever autism, dystrophies, Down's syndrome, inborn errors in metabolism and/or brain damage pre or post birth. As is typical, these children will survive, with some living decades. They exhibit different degrees of sensorimotor function with many having severe forms of spasm and joint deformity. They all experience pain. Conversely, they also experience pleasure and the excitement of attention which is self evident in many of the photographs. To what extent they have developed cognitively depends upon their specific diagnosis. However, in most cases they retain the ability to interact with their environment and their loved ones. Most will deal with the sensations and desires associated with puberty. The fact that they sense their environment is not in question. However, it is still unknown if they perceive the world around them the same way as a normal unaffected person would.

Viewing these photographs reminded me of all we don't understand regarding the human brain. Looking at each patient I felt the need to reach out to them not only to provide comfort but also to let them know they were not forgotten or abandoned. One cannot help but see in their faces many of our own emotions. I myself wonder what they feel in terms of dreams and aspirations. Do they truly understand what lies ahead? Does it really matter? The patients do not appear to exhibit hopelessness but in a strange way curiosity and a desire to engage with other people. How much of this reflects a person locked up in a restricted brain/mind/body or an individual that has just adapted, I can't answer.

At least from the genetic perspective these patients demonstrate how much can go wrong with only a one or two chromosomal deviation from the norm . In one way each patient brings to light their unique existences with many looking at first hand like young adults. However, after even a brief period of interactions, it is obvious that as described many years ago they suffer from developmental and not adult disabilities. Consequently, the normal maturation of the central nervous system is restricted it its ability to mature. Along with this are imposed the limitations of growth and the prevention of attainment of most of what makes up adulthood. When training those that will care for them, it is important to instill in them that although what they see is an adult, they are dealing with a child.

As is evident from the individual photographs, these "children" were physically well cared for, especially given the era in which these pictures were taken. Over the years the course of management has improved however for many of these devastating medical problems there is as yet still no cure. There has been a major emphasis on genetic counseling for perspective parents and advances in genetic screening. Seeing these photographs I am overwhelmed with sorrow, sympathy and an appreciation for the human spirit. I am once again challenged as to what those of us in neuroscience research can do and learn in order to make a difference.

David A. Hovda, Ph.D.
Professor, Division of Neurosurgery
UCLA

FROM EDGEWOOD TO DRKRM

IN 1976 I WAS GIVEN THE OPPORTUNITY TO PHOTOGRAPH EDGEWOOD, A HOME FOR DEVELOPMENTALLY DISABLED CHILDREN OF ALL AGES. THE FACILITY NEEDED I.D. PHOTOS OF ITS PATIENTS. THE LOCAL SCHOOL PHOTOGRAPHERS WERE THE LOGICAL CHOICE, BUT THEY WERE UNCOMFORTABLE WITH THE SITUATION. I WAS THRILLED TO BE ASKED, AND JUMPED AT THE CHANCE. I WAS GIVEN TOTAL ACCESS FROM BEFORE THANKSGIVING TILL THE VALENTINE'S DAY DECORATIONS WERE BEING INSTALLED. THE CHILDREN WERE ALWAYS OPEN, NEVER GUARDED, THEIR EMOTIONS NEVER UNDER THE SURFACE. THE STAFF CONSISTED OF INDIVIDUALS WHO, JUST BY DOING THEIR JOBS, MADE LIVES BETTER. BUT IT WAS MORE THAN A JOB. THERE WAS A LOT OF LOVE INTERTWINED WITH MOMENTS OF CHAOS. THE PORTRAITS COULD NOT HAVE BEEN MADE WITHOUT THEIR HELP.

I STARTED THE PROJECT BY TAKING THE TIME TO SHOOT 35MM AROUND THE FACILITY. BY THE TIME WE DID THE PORTRAITS, I HAD GOTTEN TO KNOW BOTH THE STAFF AND THE CHILDREN. THE CHILDREN WERE USED TO SEEING ME WITH A CAMERA. I SET UP A SMALL STUDIO AND WE TOOK THE PORTRAITS IN THREE OR FOUR SESSIONS. I WOULD DO THE COLOR HEADSHOTS FIRST. THEN I WOULD SWITCH THE CAMERA'S BACK TO BLACK AND WHITE AND TAKE A FEW MOMENTS TO MAKE TWO EXPOSURES OF EACH CHILD. THE TIME RESTRAINTS BOTH FORCED ME AND FREED ME TO BE INSTINCTIVE RATHER THAN MANIPULATIVE. THAT, COUPLED WITH THE CHILDREN'S TOTAL LACK OF ARTIFICE, GIVES THE PICTURES THEIR POWER. THEY SEEMED TO THRIVE ON THE ATTENTION THAT BEING PHOTOGRAPHED PROVIDED. BUT THEN WHY SHOULDN'T THEY? MOST CHILDREN FEEL THE SAME THING.

AFTER THE SESSIONS WERE DONE, AND THE I.D. S DELIVERED, I PROOFED THE PORTRAITS AND TRIED PRINTING A FEW OF THEM. THE TIME WAS TOO SOON AS I WAS TOO CLOSE TO THE EXPERIENCE. I PUT THEM AWAY.

A SIX MONTH CONVALESCENCE IN 2003 REMINDED ME THAT SOME OF THE MOST SIGNIFICANT TIMES IN MY LIFE INVOLVED A CAMERA AND A SHUTTER RELEASE. EVENTUALLY THAT LED ME TO THE BOX WHERE THE EDGEWOOD NEGATIVES HAD SPENT THE LAST THIRTY YEARS. I PRINTED A FEW AND KNEW THAT THE TIME WAS NOW.

PHOTOGRAPHY, FOR ME, HAS ALWAYS BEEN ABOUT MOMENTS OF TRANSCENDENCE. IT'S ABOUT PUTTING YOURSELF, WITH A CAMERA, INTO SITUATIONS THAT WHILE YOU CAN'T CONTROL, YOU CAN BE PREPARED TO RECOGNIZE. THE 35MM PHOTOGRAPH "RAINBOW" WAS DONE IN ONE OF THOSE SITUATIONS. I WAS WALKING DOWN A HALLWAY AND CAME UPON AN OPEN DOOR. THE LIGHT WAS EXPLODING ALL AROUND THE ROOM. THE LITTLE GIRL SAW ME AND ROSE TO HER KNEES. I TOOK SIX EXPOSURES WHILE NOT MOVING AN INCH. THERE ARE MANY MOMENTS AT EDGEWOOD THAT WILL NEVER LEAVE ME.

IT TOOK THE ENTHUSIASM AND UNDERSTANDING OF JOHN MATKOWSKY TO MAKE THIS SHOW A REALITY. FROM THE FIRST TIME HE SAW THE IMAGES, YOU COULD TELL HE KNEW HOW TO PRINT AND DISPLAY THEM. HIS EXTRAORDINARY PATIENCE INVOLVED PRINTING THIRTY YEAR OLD NEGATIVES THAT HAD BEEN THROUGH EVERYTHING FROM AN EARTHQUAKE TO TRAVELS IN A VW VAN.

MY MOMENTS AT EDGEWOOD ARE ON THE WALLS OF DRKRM.

Ryan Herz, March 2008