Dawn Wirth

Destroy All Music : The Masque and Beyond, 1977-1978
Photographs from the Early LA Punk Scene
On display though October 26th

Dawn Wirth bought her first camera in 1976, a Canon fTB, with the money she earned from working at the Hanna-Barbera animation studio. She enrolled in a high-school photography class and began taking photos of bands. Although the photography teacher told her that the work was "crap", she continued to follow her passion. "I was going to these punk shows; the music was exciting, new and different. I thought that taking pictures of the bands might be a lot of fun." Dawn captured on film the beginnings of a very underground LA punk scene with no idea of the kind of impact and longevity the music, dress and ideas would have on pop culture. While preserving history was the furthest thing from her mind, she was aware that she was one of only five photographers snapping away at the time; Gabby Berlin, Jenny Lens, Theresa Kereakes and Herb Wrede.

Wirth shot, up close and in action, legendary bands such as The Germs, The Screamers, The Bags, The Mumps, The Zeros and The Weirdos in and around The Masque and The Whiskey a Go-Go in Hollywood, California. In addition, Dawn snapped out-of-town bands such as Devo and Talking Heads and took color photos of The Clash before they came to America. "I saved up all my money and flew to the UK the day I graduated from High School and lived there for six months." Dawn also took color photos of the last Sex Pistols show at Winterland and another of her favorite groups, Queen, at The Santa Monica Civic.

Though she shot a few things in color, black and white was her preference. Dawn states "I was influenced at the time by Alfred Stieglitz and George Hurrell." Dawn Wirth's photos have been seen in the pages of fanzines such as Flipside, Sniffin' Glue and Gen X. Her photos will also be appearing in the upcoming books Punk 365 released by Rolling Stone and The Masque Book by Brendan Mullen. Destroy All Music will be the first time Wirth will be showing a major body of work in public.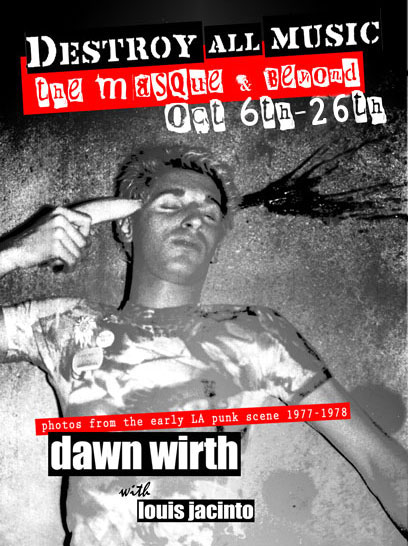 "Dawn was one the very few photographers brave enough to endure the intens pummeling at the front of the Masque stage, night after night. The reward for all her hard knocks and bruises are these "as close asyou can get" photos of The Weirdos, Screamers, Germs and many others. As if that weren't enough, she makes the best fucking brownies in the universe!" Alice Bag, 2007

"Sometimes pictures speak louder than words and in 1977 during the early days of L.A. punk rock, Dawn Wirth was on the front lines, camera in hand, capturing the moment with terrific photographs". John Denny, lead singer for The Weridos, 2007

"Dawn Wirth captured the essence of the L.A./Hollywood punk maelstrom from within the eye of the hurricane. She is authentic and her work is among the greatest of the genre." Dan Kessel, 2007

"Dawn Wirth's verite images are essential to any understanding of first wave Los Angeles punk rock 1977-79. Without angel shutterbugs like Dawn toiling away (thanklessly at the time) there would be scant archaelogical evidence this species ever existed. Now -- more than ever -- is the time for love and reparation." Brendan Mullen, founder of the Masque, 2007

"Dawn IS Punk - she is my go to girl when it comes to the LA Punk scene. She was there." Scott Michaels of www.findadeath.com, 2007

"Dawn Wirth was there to take photos of the bands that you can only dream about." Chris Walters, author of many books on Punk Rock, 2007
"If it wasn't for my Mummy, I wouldn't have discovered how COOL the art of photography is. She has and still does share her love of photography with me. I want to be a photographer just like her." Sarah Wirth, 2007