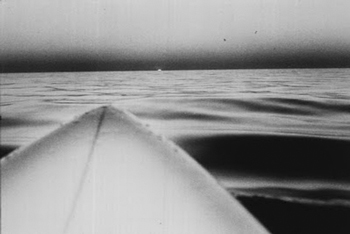 Surfboard With Setting Sun, Santa Monica, 1980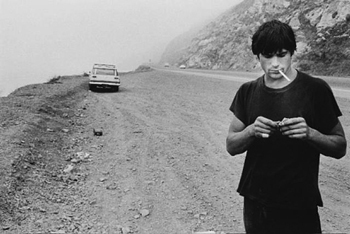 Clockwork Malibu, 1977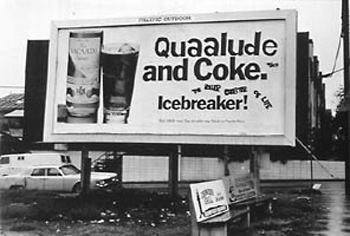 Quaalude & Coke, Venice, 1976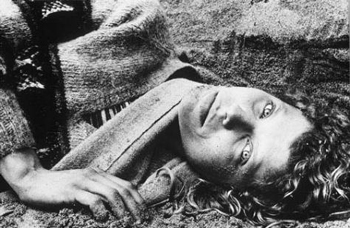 Debbie With Her Head in the Sand, Venice, 1980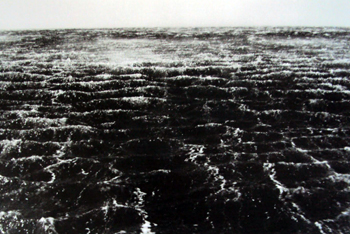 Offshore Winds, Zuma Beach, California, 1980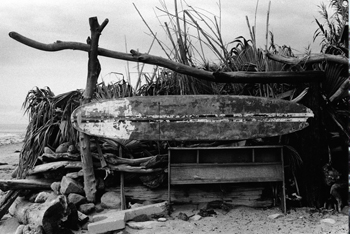 Old Surfboard Topanga, Topanga Beach, 1977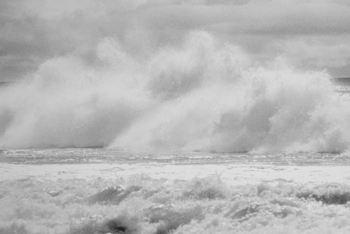 Powder Wave, Jalama Beach, Santa Barbara, 2009
The Surfing Essay
Photographs by Anthony Friedkin

September 17– October 29, 2011
Opening Reception Saturday, September 17, 7-10pm
The Surfing Essay by photographer Anthony Friedkin, documents in a vivid and personal way the Surfing culture of Southern California. Started in the middle 1960's, the essay explores how surfer's lived when they got out of the ocean and crossed the Pacific Coast Highway.

A native Southern Californian and an avid surfer himself Friedkin used his camera as a means of personal discovery and continues to do so. The photographs are highly personal, a visual testimony to his own life as a surfer, his deep affection for the ocean and the beauty of waves, plus his connection to his fellow surfer's, their girlfriends, their ups and downs and the environments they co-existed in.

Much of the essay was shot in the 1970's, a particular time in the evolvement of surfing where lifestyles amongst surfers were wild and reckless, especially in Malibu and Venice. Many of the photos were shot during the "Dog Town" era, in Venice beach, then know at the time for it's stark, decayed community and toughness. These are not your typical Southern California golden haired, perfectly tanned surfers standing with their board at sunset. These are warriors of the waves, at times intoxicated and high. In the tradition of Danny Lyon, these edgy, black & white photographs challenge our sense of what's going on within this certain subculture at a particular time in Southern California history.
Links to Articles and Reviews:
Malibu Times
dotphotozine
Fecal Face Dot Com

Anthony Friedkin began photographing as a child. He started working in the darkroom at age eleven, processing and printing his own images. Since that time, which was in the early 1960's, he has accomplished a significant body of work. His photographs are included in major Museum collections: New York's Museum of Modern Art, The J. Paul Getty Museum and others. He is represented in numerous private collections as well. His pictures have been published in Japan, Russia, Europe, and many Fine Art magazines in America.

Friedkin's full frame black & white photographs explore the many mysteries of moments in time. He creates his own distinctive exhibition prints in his darkroom. He says of his work, "I believe in extraordinary photographs that draw you in and cannot be easily defined-celebrating perception and its many hidden layers of reality."
Anthony Friedkin appears courtesy of the Steven Cohen Gallery.
The Surfing Essay is part of Pacific Standard Time. Pacific Standard Time is an unprecedented collaboration of more than sixty cultural institutions across Southern California, coming together to tell the story of the birth of the L.A. art scene. Initiated through grants from the Getty Foundation, Pacific Standard Time will take place for six months beginning October 2011.
Pacific Standard Time is an initiative of the Getty. The presenting sponsor is Bank of America.





drkrm is an exhibition space dedicated to the display and survey of popular cultural images, fine art photography, cutting edge and alternative photographic processes. drkrm is located at 727 S. Spring Street in the Gallery Row district of Downtown Los Angeles.