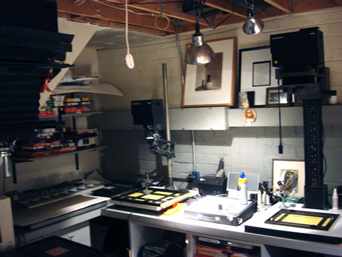 drkrm began life in Los Angeles as a black & white lab dedicated to the highest quality of hand processing and fine printing, specializing in traditional, silver-gelatin printing nearly lost in today's digital age. John Matkowsky, was mentored by Master Printer Tom Consilvio, and, for the past thirty years has printed for some of photography's most influential artists including such diverse photographers as Phil Stern, Gary Winogrand, Horace Bristol, William Claxton, Edward S. Curtis, Jo Ann Callis, Catherine Opie and, most recently, the Los Angeles Public Library Ansel Adams Collection.
drkrm quickly expanded as an exhibition space specializing in documentary and photo-journalistic work, cutting edge and alternative photographic processes, fine art photography and the display and survey of popular cultural images contemporary or historic.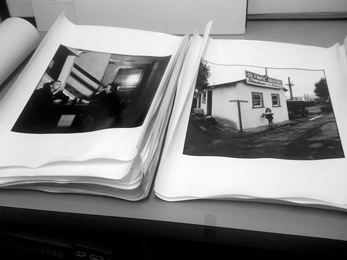 For over a decade, drkrm has presented a continuous array of exceptional exhibits, specializing in more under-the-radar, counterculture presentations. As curator, Matkowsky has never been afraid of unspoken issues; some shows were immensely stimulating while profoundly poignant, others were compelling, powerful, heart-rending, and even transforming in their relevance. drkrm has launched many unknown artists as well as exhibited many famous ones.
drkrm believes that  giving exposure to artists who traditionally would not be displayed in a gallery, or more obscure work from established photographers that, perhaps, is under appreciated or ignored. From Anthony Friedkin's early study of the surf culture in Southern California; the controversial portraits of the developmentally disabled with Ryan Herz's The Children of Edgewood, to the shockingly honest Lowlife, Scot Sothern's brutal, unapologetic series of images of street prostitutes that was published in 2011 as a photobook in the UK by Stanley Barker. The British Journal of Photography called Lowlife, "The year's most controversial photobook."
drkrm pushes the edges of what we've known and seen before, and in the process not only finds other veins of significance in well-known photographers, but also give voices to those less established or connected but wholly relevant. Photographers showcased have included Jack Laxer and his mid-century architecture 3D work, Joseph Rodriguez, Philip Fagan, Rock-music photographer Travis Shinn, Paul Zone, Don Jim, Jeff Seltzer and Kelsey Bennett.
drkrm exhibited the first public presentation of never-before-seen photographs by the internationally renowned painter, printmaker, muralist and performance artist Gronk, as well as the West Coast premiere of legendary Chicago-based photojournalist, Art Shay.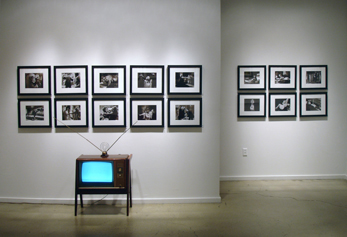 Past spectacles have include edgy oddities a la Beefcake Babylon, Found: Mid-Century Vernacular Nudes, and Haunted Hacienda, a study of the art of the Mexican horror film. Taboo and alternative subjects like ghosts, queer history, prostitution, the Edgar Allan Poe films of Roger Corman, cult filmmaker Donald Cammell and the early Los Angeles Punk scene have also been explored. In one glowing review from the national magazine JUXTAPOZ, Matkowsky was called a "visionary" for his edgy, dramatic showcases. In addition, drkrm was the first commercial gallery in Los Angeles to feature cell phone photography.

Many works, including Gronk's photographs, have gone on to other galleries and museums including Asco: Elite of the Obscure, A Retrospective, 1972-1987 at the Los Angeles County Museum of Art and Under the Big Black Sun: California Art 1974-1981at the Museum of Contemporary Art (MOCA).
In June, 2014, the de Young Museum in San Francisco exhibited Anthony Friedkin's Gay, A Photographic Essay, a show presented at drkrm in 2009, and in July 2014, The Fairoaks Baths, an exhibit of Polaroids taken by Frank Melleno during the summer of 1978 at a San Francisco bathhouse, was exhibited at the Leslie-Lohman Museum in NYC. Paul Zone's book Playground: Growing Up in the New York Underground, based partly on The New York Underground Scene 1972-1977 exhibition at drkrm in 2008, was published by Glitterati in 2014 and his images have been shown worldwide.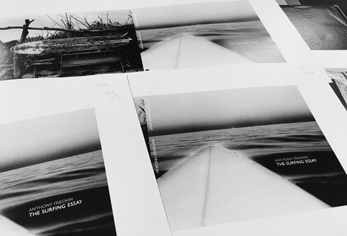 drkrm editions has been established to produce limited-edition, high quality photobooks, art catalogs and monographs of classic, the esoteric, avant-garde, and political-social photography with occasional gallery 'pop-ups' to launch certain works.

Questions or more info, contact us at info@drkrm.com