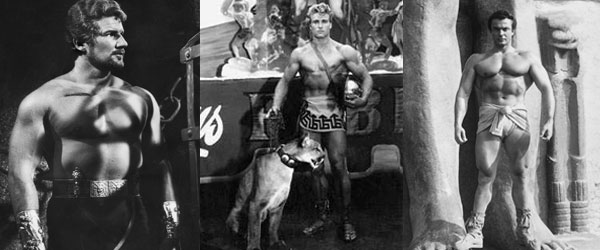 Alan Steel / Ed Fury / Mark Forest
During the late fifties and early sixties a cinematic genre was established through the genius of casting real life bodybuilders in the roles of figures from Greco Roman mythology. The most famous of all these bodybuilders was Steve Reeves whose first excursion into the realm of Zeus made him an an international star. The film was Le Fatiche di Ercole (1958). When it was released stateside as Hercules, the film caused a sensation at the box-office and the peplum or sword and sandal films became vogue. From this point on nearly two hundred films would follow the formula established in Hercules.

Beefcake Babylon is a collection of original movie posters and memorabilia from many of these films, photographs and stills of the men who played Hercules during the height of sword and sandal craze, and rare "classic physique" photographs of these musclemen at their peak as professional bodybuilders.
Beefcake Babylon surveys the evolution of the "peplum" film beginning with rare images from Cecil B. De Mille's pre-code classic, The Sign of the Cross (1932) which takes place in the Rome of Nero. In between there is Mario Bava's psychedelic masterpiece, Hercules in a Haunted World (1961) and the camp classic The Crimson Executioner (1965), which straddles a fine line between horror and peplum. We return to Nero and conclude with the ultimate Italian peplum, Federico Fellini's own fragmented nightmare of pre-Christian Rome, Satyricon (1969).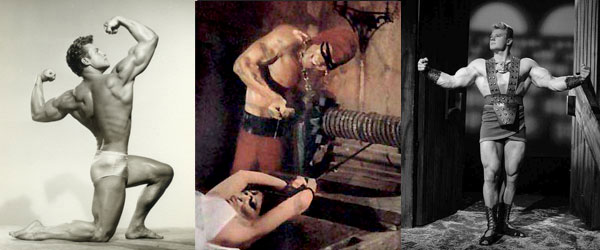 Steve Reeves / Mickey Hargitay / Dave Draper

Drkrm.Gallery invites you to explore these cinematic worlds of ancient mythology where images of buff, powerful men in loincloths deftly hurling foam boulders at three-headed dragons while challenging demons to the very gates of Hades for their honor, have captured our imagination. We have chosen these images for their eroticism and beauty from the most noteworthy films which deserve reappraisal in this overlooked genre.