2121 San Fernando Road Suite 3
Los Angeles, CA 90065
Tel 323.223.6867 drkrm@mac.com hours: Tue-Sat 11-5 Sun 1-4

now in the gallery::
BEEFCAKE BABYLON
The Iconography of Sword and Sandal Epics from DeMille to Fellini

July 14th - September 23rd, 2006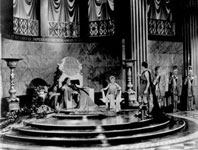 Sign of the Cross (1932)
Charles Laughton, Claudet Colbert, Fredric March
20x24 Toned Gelatin-silver fiber print

In 1932 at the height of the pre-code era in Hollywood, Cecil B. De Mille created his masterpiece of Kitsch The Sign of the Cross. This film quickly became notorious for its depiction of lesbianism, homosexuality, bestiality, cannibalism and vice. All subsequent excursions into ancient Rome including the titles in this exhibit owe a debt to this film. It would take Federico Fellini nearly three decades later to equal it with his breathtaking "Fellini Satyricon". This bizarre and lavish spectacle had over four thousand extras, not to mention the use of half a dozen of the nation's zoos, to populate the massive set for the slaughter of the Christians, lovingly photographed by Karl Struss.

There were three sequences by which this film' over the top reputation rests. The first takes place during the night of the great fire of 64 AD as the mad emperor Nero plays his fiddle while the city burns out of control below. De Mille, in a stroke of genius, cast Charles Laughton, who in true gay abandon, gives an acting tour de force as Nero. No one ever did gay abandon quite like Laughton and it is a delight to see him squeal like a pig at his own perverse villainy as the flames dance around the terrace of his palace.

The second sequence is of course the wicked Empress Poppaea in her bath of asses' milk barely concealing her breasts as they bob perilously close to the surface. The payoff comes when the empress demands one of her attendants to join her for what can only be interpreted as a lesbian encounter. Colbert recalled years later that the milk was real and after a few hours the odor was impossible to ignore and the set had to be cleared to clean it out. The third sequence was nearly cut from the film. Frederic March invites his latest conquest, the Christian girl Elissa Landi, to a Roman orgy where upon the infamous lesbian dancer Ancaria (Joyzelle Joyer) proceeds to indoctrinate the young girl into the rites of Sappho by performing her specialty dance, a very suggestive number for 1932. Most of the woman at the orgy are wearing see-through gowns as the camera prowls about the room. Four years later, all this was removed until the film was restored to all its pre-code glory just a few years ago.

In spite of De Mille's moralizing, this entire Roman costume epic is highly entertaining,and quite unbelievable that he got away with as much as he did in 1932. The Sign of the Cross remains as a landmark achievement, not only for Cecil B. De Mille, but as a masterpiece of kitsch.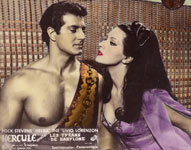 Ercole contro i tiranni di Babilonia (1964) Hercules and the Tyrants of Babylon
Rock Stevens(Peter Lupus), Helga Liné 11x14 French Lobby Card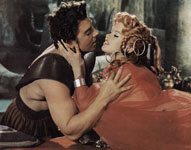 Gli Amori di Ercole (1960) The Loves of Hercules
Micky Hargitay, Jane Mansfield 11x14 Silver-halide print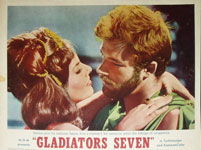 Los Siete espartanos (1962) Gladiators Seven
Richard Harrison Vintage US Lobbycard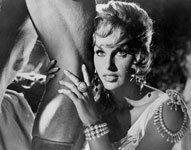 Ercole e la regina di Lidia (1959) Hercules Unchained
Steve Reeves, Sylvia Lopez 11x14 Silver-halide print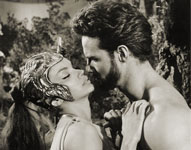 Fatiche di Ercole, Le (1958) The Labors of Hercules aka Hercules
Steve Reeves 11x14 Silver-halide print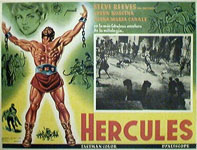 8) Fatiche di Ercole, Le (1958) Labors of Hercules
Vintage Mexican Lobby card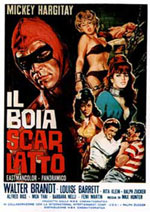 Il Boia Scarlatto (1965) aka The Crimson Executioner, The Bloody Pit of Horror
Vintage Italian Two-sheet 40x55 (linen backed)
By 1965 the sword and sandal film was drawing to a close but not before this particular film known as The Crimson Executioner, or Bloody pit of Horror in the United States, was released as part of a drive-in double bill creating a substantial cult following over the years. While it can be argued that this film is more horror than peplum, the fact remains that The Crimson Executioner straddles the line between the two genres. Mickey Hargitay, a former Mr. Universe, was living in Italy at the time as well as being the husband of Jayne Mansfield. They even managed to star together in The Loves of Hercules (Gli Amori di Ercole) in 1960. The Crimson Executioner address to what effect the nature of bodybuilding can induce as a mental aberration for a man so obsessed while also creating a substantial subtext of homosexuality. Mickey Hargitay plays Travis Anderson, a bodybuilder turned actor who made a number of sword and sandal films in Italy before retiring to his castle populated by nothing but muscular male servants in tight matching outfits. They serve their master without question so one can also imagine the true nature of such an arraignment. At one point Hargitay's character explains "I was forced to retreat to this castle!" Mankind is made up of inferior creatures, spirirtually and physically deformed, who would've corrupted the harmony of my perfect body"

The popularity of this film as a camp classic rests almost entirely on Mr. Hargitay's performance as the crazed bodybuilder and his alter ego the Crimson Executioner. Watching him oil up his perfect body over and over again as his chest heaves up and down in ecstasy while crying out for all to hear, "This is my perfect body… my beautiful body" is almost a show unto itself. This film has been called a minor classic of Queer Horror Cinema as well as a kinky hybrid of peplum and comic book heroics. It is a time capsule of Italy in the sixties to be sure. This film as well as The Loves of Hercules assures Mickey Hargitay a place of honor in our pantheon of Greek and Roman muscle men and the films that created the mythology of the sons of Hercules.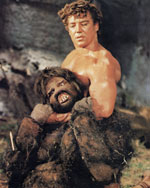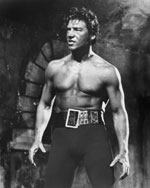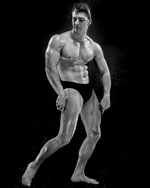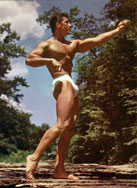 Mickey Hargitay
Born in Budapest, Hungary in January 1926 to parents who were in show business in Europe, Miklos "Mickey" Hargitay came to the US in the early 1950s. An accomplished bodybuilder, Hargitay entered the Mr. America and Mr. World competitions in the early 1950s and won the NABBA Mr. Universe in 1955, five years after Steve Reeves won the title. Hargitay's show business career heated up when he was discovered by Mae West, who added him to her cast of bodybuilders in the 'Mae West Revue,' a 1950s precursor of male stripper shows, along with Brad Harris, Gordon Mitchell, and Reg Lewis. As rumor has it, Jayne Mansfield was in New York rehearsing for Will Success Spoil Rock Hunter? when she first saw Mickey Hargitay in West's revue in 1956. As the story goes, a waiter asked Mansfield what she'd like that evening, and her reply was, "I'll have a steak and the man on the left!" Estranged from her first husband for several years, after Mansfield's divorce they were married in January 1958.

While Hargitay was never strictly a sword and sandal actor, he did make one film as Hercules, in the 1960 classic The Loves of Hercules (aka Hercules vs. the Hydra with Jayne Mansfield. Hargitay makes a exceptionally good Hercules and was one of the only actors to not sport a beard for the part. Mansfield portrays both a good queen (in a black wig) and an evil queen (in a red wig). Mickey brings the beefcake and Jayne brings the camp to this dubbed Italian spectacle. The dubbing, in fact, makes the film unintentionally hilarious to fans of Hargitay and Mansfield. Nevertheless, the action in The Loves of Hercules is very engaging, and the film is a solid entry in the sword and sandal genre. The couple also acted together in Promises! Promises! (1963; with Marie McDonald and Tommy Noonan) and Primitive Love (1964; with Franco Franchi and Ciccio Ingrassia). But around the time of the latter movie's release, after six years of marriage, three children, and several films together, the couple divorced in August 1964 (just months after the birth of their daughter, actress Mariska Hargitay). Hargitay continued his acting career throughout the late 1960s and early 1970s. His best-known film is probably Bloody Pit of Horror, an interesting horror film that contains some shockingly gruesome scenes given the period during which it was made. Hargitay portrays Travis Anderson, a reclusive former actor turned sinister murderer who systematically tortures and kills a bevy of dimestore-novel cover models who come to his castle, uninvited, for a photo shoot.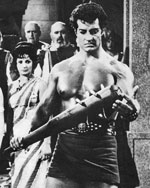 Peter Lupus

Born in Indianapolis, Indiana, on June 17, 1932, Peter Lupus has had an on-again, off-again film career. Before becoming an actor, Lupus had won the titles Mr. Indianapolis (1954), Mr. Indiana (1960), Mr. Hercules, and the world title of Mr. International Health Physique. As with many bodybuilders of the era, he tried his hand at acting and took roles in the Indianapolis Starlight Musicals series. In addition, he did summer stock work in the east. His first film role came in the 1964 release Muscle Beach Party.

In his first film, Peter Lupus (billed as Rock Stevens) portrays Flex Martian, the biggest bodybuilder in Jack Fanny's (Don Rickles) troupe of athletes. Look for famed bodybuilders Chet Yorton and Larry Scott as fellow bodybuilders. Of course, the movie stars the usual AIP beach movie regulars, such as Frankie Avalon, Annette Funicello, John Ashley, Jody McCrea, Dick Dale and the Del-Tones, and Candy Johnson. Others include beautiful Italian sexpot Luciana Paluzzi, Buddy Hackett, Morey Amsterdam, and Don Rickles. After production wrapped on Muscle Beach Party, Lupus went to Italy to make five quickie sword and sandal movies for AIP. Before Muscle Beach Party was released by American International Pictures, producer Samuel Z. Arkoff told Lupus to come up with a stage name, stating that American audiences liked American-sounding names; therefore, Lupus is billed as 'Rock Stevens' in his early film appearances. He went back to using his real name when he was cast in the role of Willy Armitage in the CBS TV series Mission: Impossible (1966-1973).

Peter Lupus met his future wife, Sharon, in the late 1950s when she visited the Indianapolis gym that Lupus owned. They were married in 1960 and have a son, Peter Lupus III, who is also an actor. For a number of years, Lupus has been a vitamin company representative and spokesman in the Hollywood Hills area, but he occasionally accepts small parts in films and TV shows. Now over 70 years old, Lupus is still working out and is in great shape, only 10 pounds off his early 1960s weight of 250 pounds. At 6'4", Lupus was one of the more physically imposing sword and sandal actors.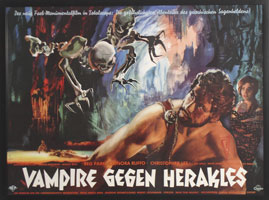 Ercole al centro della terra (1961) Hercules in the Haunted world
Vintage German Two-sheet 35x47 (linen backed)

Hercules in the Haunted World is considered by many to be the best of the sword and sandal epics primarily because of its director, the now legendary Mario Bava. Bava was the cinematographer for both of the Steve Reeves Hercules films and eminently qualified to helm just about any kind of film where imagination and special effects were required.
Mario Bava came to Hercules in the Haunted World immediately after astonishing the film world with his masterpiece La Maschera del Demonio known in the United States as Black Sunday. Bava proved he could master black and white and now he was about to prove the same with color photography, for this Hercules would be the most psychedelic of all the Hercules films to follow. Bava had just worked on the special effects unit on "Hercules and the Captive Women," which also featured another former Mr. Universe, British bodybuilder Reg Park, replacing Steve Reeves in the title role. Mr. Parks was runner up to Steve Reeves in the Mr. Universe competition a few years back and then went on to win the title three more times.

Hercules in the Haunted World is filled with gorgeous imagery that is quite dazzling at times. This time Hercules must descend into Hades to save his lady fair from the clutches of the evil Lord of the undead. Lyco, played by Christopher Lee. Mr. Lee had just created a sensation as Dracula for Hammer films production of Horror of Dracula so naturally his character was in need of human blood at some point in the proceedings. Hercules was shot in three short weeks at Cinecitta during the summer of 1961. Christopher Lee recalled how much fun he had playing opposite Reg Park as they both got a case of the giggles hurling paper mache rocks at one another.

Mario Bava has created a masterful fantasy in bold rich colors with compositions of rare beauty for a genre that benefited greatly from his peerless mastery of photography and special effects. Hercules in the Haunted World is one of the must see films in the canon of sword and sandal epics. It is also a classic in the realm of fantasy cinema.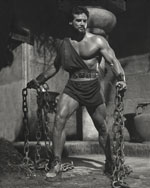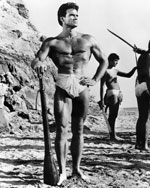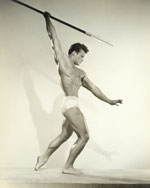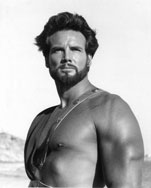 Steve Reeves

Though he did not possess a Herculean acting talent, bodybuilder Steve Reeves certainly had a Herculean physique, and made good use of it to play some of filmdom's most famous mythological heroes during the late 1950s and early 1960s. Reeves was born on a cattle ranch in Montana in 1926. His father died in a farming accident, and at age six months, Steve won his first fitness title as "Healthiest Baby of Valley County." His family moved to California later that year. He joined the Army, where his job was loading boxcars and trucks, and constantly worked out at the gym in his free time. His body developed quite rapidly and he decided to pursue bodybuilding professionally. Following Army service, he won "Mr. Pacific Coast" in Oregon in 1947 and, eventually, "Mr. America", "Mr. World" and "Mr. Universe". He traveled to New York, where he studied acting, and afterwards made his way to Hollywood. He didn't get many parts other than bulging pectorals in the background of various musical spectacles and costumers, although he did manage to snag a role as a detective in infamous director Edward D. Wood Jr.'s Jail Bait (1954).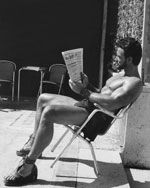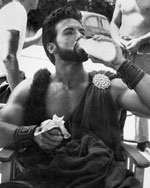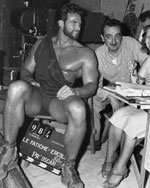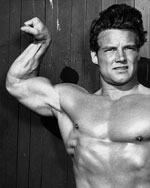 Small parts on TV came his way, but they too were mostly posing bits or walk-ons. Disappointed, luck finally came his way when Italian film director Pietro Francisci saw him play Jane Powell's boyfriend in Athena (1954) and persuaded him to go overseas to play the title role of Le (1958) Though critics dismissed the film as "muddled mythology" (and worse!), the public loved the sword-and-sandal epic despite its poorly-dubbed sound track and Steve became an "overnight" star. Sequels followed, none any better or worse. Reeves paved the way for other pumped-up hopefuls (Ed Fury, Mark Forest, Reg Park) to seek fame and fortune playing absurdly muscled mythological figures such as Samson, Ursus and Colossus, but nobody topped Steve in popularity. A shoulder injury forced his retirement, and he spent the remainder of his life promoting drug-free bodybuilding while living on a ranch and breeding horses. He died of lymphoma at age 74 in 2000.
Read an Interview with Steeve Reeves here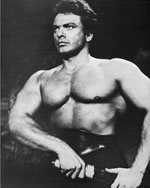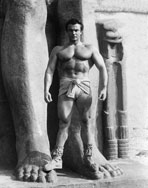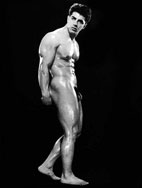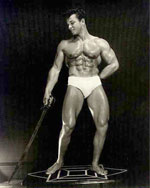 Mark Forest

Born Lou Degni in Brooklyn, New York, in January 1933, Mark Forest began bodybuilding at the age of 13 after being inspired by physical culture magazines. Later, Forest and his brother worked with the physically handicapped by developing exercise programs for them. Forest competed for the 1952 Mr. America title and finished 27th, a remarkable feat for a 19-year-old. Before entering films, he appeared in some nightclub acts as the "strength premise." Forest was named "Mr. Venice Beach" in 1954, and he came in second in the "Mr. Muscle Beach" competition during the same year. Forest was the second American actor, after Steve Reeves, to be recruited by Italian producers to star in sword and sandal films. He is a third-generation Italian-American, and some of his films were made in Naples, Italy, the area from which his grandparents came. He used the money he made making gladiator movies in Italy to study Opera. Currently teaches opera in the Los Angeles area.

back more home