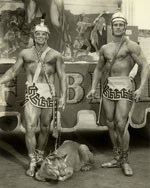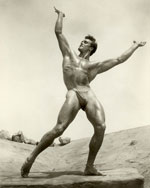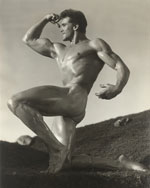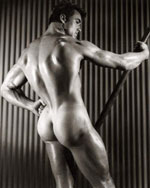 Ed Fury

Born Edmund Holovchik in June 1928 (some sources cite 1934 as Fury's date of birth), Ed Fury matured into a very athletic teenager. While he wrestled in school and lifted weights, he didn't work toward the gargantuan build as did some of his contemporaries, such as Steve Reeves and Reg Park. Rather, his athletic and acting abilities were used more to portray strength. His impressive physique made him a natural contender for the Mr. Muscle Beach title in 1951 and 1953, coming in third and second, respectively.

Fury's early career consisted of modeling for various physique studios in the 1950s, such as the Athletic Model Guild (AMG) and Bruce of LA. In addition, Fury made several home movie loops distributed by Apollo and AMG as 16mm and 8mm films in the 1950s. Fury also graced the covers of a number of physique culture magazines in the 1950s and 1960s. A six-foot tall natural blond, Fury began acting on the legitimate stage before entering films.

Among other vehicles, he appeared on Broadway in the show Fanny. He can also be spotted in a number of early to mid 1950s big-budget films, including Athena (1954; with Steve Reeves), Demetrius and the Gladiators (1954; with Victor Mature), and Abbott and Costello Go to Mars (1953) Into the latter part of the 1950s, Fury found larger roles in such films as the campy Wild Women of Wongo (1958). He also worked in television in the 1950s, appearing as a guest star during the last season of the 1950s TV comedy My Little Margie with Gale Storm and Charlie Farrell.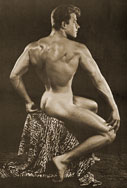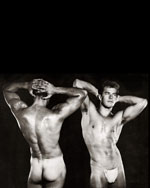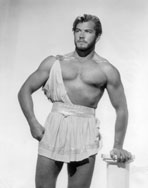 Richard Harrison

Born in May 1935 in Salt Lake City, Utah, actor and model Richard Harrison enjoyed a long career in films until his retirement in the 1990s. Much like his contemporary Ed Fury, Harrison started his career as a physique model in the 1950s and graced the covers of numerous magazines. The extremely handsome Harrison made his film debut in the campy science fiction effort Kronos (1957; with Jeff Morrow). Several more films followed, including Battle Flame (1959; with Scott Brady) and Master of the World (1961; with Vincent Price). While he was getting steady film work, Harrison's career wasn't in the fast lane. So, in 1961 he headed to Rome and became a star in a string of sword and sandal films. That same year, he married his first wife Loretta and gained James H. Nicholson, co-owner of American International Pictures, as a father-in-law. Harrison ran with the sword and sandal genre until it died out in the mid 1960s. Unlike some of his contemporaries, he easily made the transition to other film genres, including spy films and spaghetti westerns.

Harrison's career continued to be strong throughout the 1970s and 1980s. In the early 1990s, Harrison and his second wife Francesca moved to Palm Springs, California. He ran for the office of mayor in 1995 and again in 1999 but lost the race to incumbent Will Kleindienst. The retired actor was recently awarded a star on the Palm Springs Walk of Stars. His latest film project is the experimental film Jerks, made in 2000.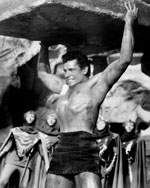 Gordon Scott

Maciste contro il vampiro (1961) Goliath and the Vampires
11x14 Silver-halide print
After his stint as Tarzan ended, Gordon Scott began expanding his range, doing sword and sandal films, spaghetti westerns (such as The Tramplers), and even spy thrillers (such as Danger!! Death Ray), made mostly in Italy and Spain. Scott became very popular in Europe and made a number of popular features there, such as Duel of the Titans (1961, with Steve Reeves), Samson and the Seven Miracles of the World (1962), Goliath and the Vampires (1963), and Danger!! Death Ray (1965), When peplum began to die as a film genre, Gordon Scott quickly took on other roles, falling back on his cowboy days in two films: Buffalo Bill: Hero of the Far West and The Tramplers.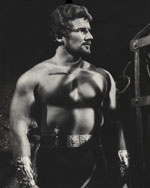 Alan Steel

il gladiatore ribelle Ursus(1963) 11x14 Silver-halide print
Alan Steel was born Sergio Ciani in Italy. While many Hercules actors were American bodybuilders, the handsome Steel began his acting career as a stand-in for Steve Reeves and later played second banana to such sword and sandal actors as Brad Harris. However, by 1964 Steel was starring in such peplums as Hercules Against Rome (1964). Another starring vehicle for Steel, Hercules Against the Moon Men (1964) is one of a handful of sword and sandal movies to incorporate science fiction into the sword and sandal genre. Reg Park's Hercules in the Haunted World (1961; with Christopher Lee) and Gordon Mitchell's The Giant of Metropolis (1961) also blend sci-fi with sword and sandal.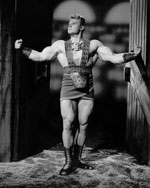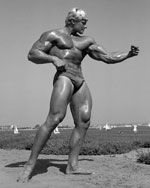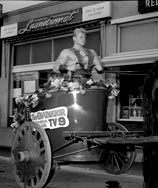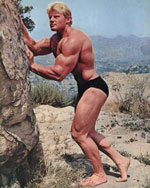 Dave Draper

Although Dave Draper never acted in a sword and sandal film, he was once host of a Los Angeles TV program with an emphasis on sword and sandal movies. Billed as "David the Gladiator," Draper hosted a movie each Saturday night on Channel 9. The station was then known as KHJ-TV, owned by RKO. Dressed in gladiator leathers, Draper hosted an early 1960s sword and sandal movie from 8-10 PM, on Saturday nights. The program lasted for about a year or so, and the movies that were run featured Steve Reeves, Reg Park, and Kirk Morris, among others. Born in New Jersey in April 1942, Dave Draper, a 1965 Mr. America, 1966 Mr. Universe, and 1970 Mr. World, made several film and TV appearances in the 1960's, including Don't Make Waves (1967; with Tony Curtis) and the entertainingly gruesome black comedy Lord Love a Duck (1966; with Roddy McDowall). Also, he made a 1967 appearance as Mr. Universe on the CBS-TV show The Beverly Hillbillies. Draper eventually left acting for business endeavours and is presently the manager of the World Gym in Santa Cruz, California.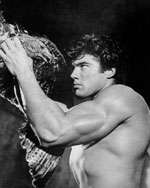 Kirk Morris

Born Adriano Bellini in Venice, Italy, in 1938, Kirk "Kirky" Morris worked as a gondolier in his native city beginning in his teens. Spotted for films by an Italian producer, Morris went to Rome in 1960 to begin a film career. Throughout his career which lasted about ten years, Kirk Morris starred in a number of sword and sandal films, such as Colossus and the Headhunters. One of Morris's best films is the unusual The Witch's Curse (1962). He portrayed Hercules at least three times on screen, most notably in 1965's Hercules, Samson, and Ulysses. After the peplum craze died out in the mid 1960s, Morris's acting career began to slide. He made fewer films after 1965, starring in a couple of westerns and war films before leaving the screen in 1970.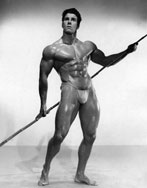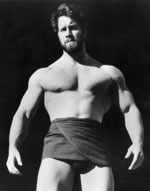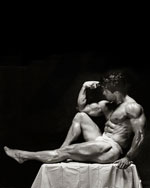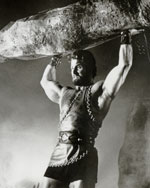 Reg Park

Famed bodybuilder Reg Park was born in June 1928 in Yorkshire, England. Park's father owned a gymnasium and a barbell company. The younger Park soon followed his father's lead, competing for the Mr. Britain title at the age of 18. In 1949, he won the Mr. Britain title and in 1950 won the Mr. Europe competition. Park was the winner of the Mr. Universe competition in 1951 and again in 1958 and 1965. He remained active in bodybuilding competitions through the early 1970s and was a popular subject on the cover of fitness magazines of the era. Park created a health instruction and equipment business in his native England after winning the Mr. Universe title in 1951. In the 1950s, he married a ballerina from South Africa and later moved to South Africa to expand his business. Among Park's business interests was a bodybuilding magazine titled The Reg Park Journal. Beginning in 1954, the magazine showcased some of the most prominent bodybuilders in the 1950s; unfortunately, it ceased publication in 1959.

Although Park's few film appearances had little bearing on cinema history, he inspired some of today's biggest film stars, including Arnold Schwarzenegger and Sylvester Stallone, to begin bodybuilding. In fact, Schwarzenegger trained with Park's help in the late 1960s, living with Park and his family in their South African home for awhile. Park also convinced Schwarzenegger to take the title role in the 1970 film Hercules in New York as a money-making proposition. Today, Park continues his association with the sport of bodybuilding as a contributor to a muscle magazine and occasionally serving as a judge in competitions. Park's son, Jon Jon, is a personal fitness trainer in California whose skills have been promoted by Schwarzenegger and Oscar De La Hoya. Park portrayed Hercules in three films in the early 1960s: Hercules and the Captive Women (1961); Hercules in the Haunted World (1961), and Hercules, Prisoner of Evil (1964)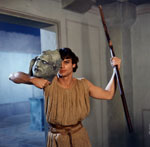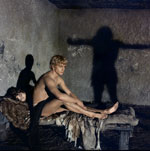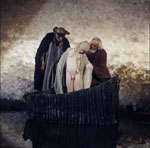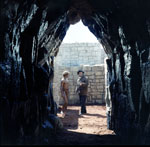 Fellini Satyricon 11x14 C- print

In 1969, four years after the demise of the peplum film, Italy's most famous director, Federico Fellini embarks on filming his own fragmented nightmare of pre-Christian Rome. Fellini takes over the largest soundstages at "Cinecitta" where most of the peplums were made as well. The end result would be a visual fantasy, not only of Nero's Rome, but the very climate of sixties Italy.

In Fellini's sub-conscious, the Roman landscape of Satyricon is vaguely familiar from the decade's previous flirtation with Hercules and the Gods. Fellini's Rome has outré horizons of purple and green with citizens to match. It is a world where Gods and Goddess still walk the earth, granting pleasure or pain to those mortals that tempt their imagination. We remain in that very realm of magic and death that existed in the previous films of Samson and Hercules. Fellini cast actor Gordon Mitchell to play the "Minotaur" in Satyricon as an homage to his performance in The Giant of Metropolis (Il Gigante di Metropolis) in 1961 which also took place in a similar environment of science fiction and Ancient Rome. Fellini Satyricon gives us images of decadence and sex during Nero's reign, a cinematic tradition that began with the very advent of cinema, reaching its zenith with De Mille's Sign of the Cross (1932) and finally resting within the realm of myth and magic of Zeus in the peplums of 1960's Rome.

Physique Photography and the Cult of Hercules

An Interview with Steeve Reeves